Playing Fields and Complex Information

Fred Allan Softball Complex
1198 Oxford Valley Road, Yardley, PA
Concession stand featuring Chick-fil-A
Restroom facilities

No parking at complex, parking available at community center.

Kiddie area

Field 1 – covered player benches; skinned infield; 6′ high outfield fence at 200 feet; bleachers on both sides

Field 2 – covered player benches; skinned infield; 6′ high outfield fence at 200 feet; bleachers on both sides
Field 3 – covered player benches; skinned infield; 6′ high outfield fence at 200 feet; bleachers on both sides
Bullpens for pitchers and catchers for warm up
Batting cages for warm up
The complex can host three softball games simultaneously. Black and orange signs will direct you to the corresponding fields. The Complex has very little shade, you may want to bring some type of protection from the sun. Please no pets, the Pennsbury Staff appreciates your cooperation. We ask people attending the tournament to park in the community center parking lot and field and the Stoddard parking area. Please follow all parking signs, under no circumstances will parking be allowed along Oxford Valley Road. Any vehicle parked illegally will be subjected to a fine and or towed.
G.P.S. Coordinates: 40.217960, -74.842827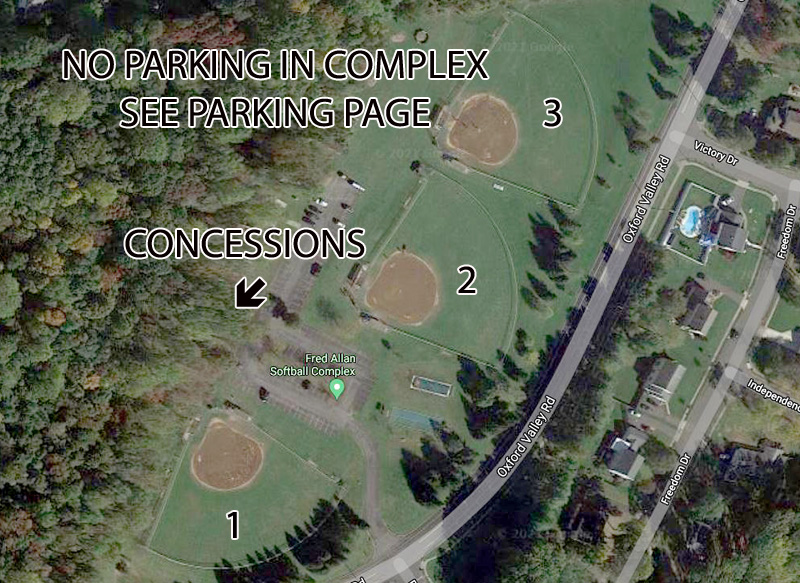 Newtown Helen Randle Softball Complex
274 Swamp Road, Newtown, PA
Fields 1, 2, 3, 4, 5 and 6
Restroom Facilities including porta-potties
Ample parking

Concession stand

Bleachers at every field, fields 3 and 4 have bleachers only on one side.

The Newtown (Helen Randle) Softball Complex is located 20-minutes from the Pennsbury Softball Complex.  This 30.8 acre park is located on Swamp Road across from Bucks County Community College.  This park has six softball fields, two basketball courts, a playground, a half-mile walking trail, restrooms, a concession stand and a picnic pavilion.  
G.P.S. Coordinates: 40.238271, -74.95912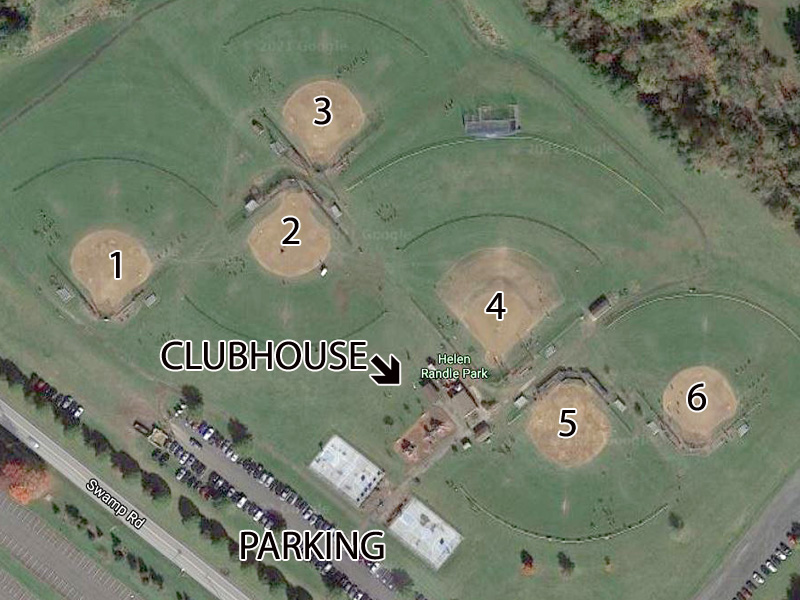 Ewing (Armstrong Memorial Park)
342 Green Lane, Ewing, NJ 08638
Fields 1, 2, 3, 4, 5 and 6
Offers 6 youth softball fields
Concession stand
Restrooms, we reserve them for the girls, men, please use the porta-potties (we're outnumbered)
Ample parking (note closed lot due to construction)
Additional porta-pottys
Bullpens for pitchers and catchers to warm up
Outdoor batting cages
Press box for game day operations.
Please follow the following: Park Is Closed From Dusk To Dawn, Pick Up All Trash Including Pet Waste, Keep Pets Under Control, Please Respect the Privacy of Neighbors, Adult Supervision in Playground Area Is Strongly Recommended, No alcoholic beverages, illegal drugs and other controlled substances are not permitted.
G.P.S. Coordinates: 40.27141867170768, -74.76549772038625

145 E Pumping Station Road, Quakertown, PA 18951
Bleachers
Restrooms & porta potties
Ample parking, $5.00 daily fee *
Award winning Concession stand
Handicap parking available
No smoking
No grilling
No alcohol is permitted on premises
Two batting cages
Bullpen areas on lower complex fields
* Parking fee goes directly to help support local recreational softball league: Richland Area Softball Assoc. 
G.P.S. Coordinates: 40.463310, -75.345710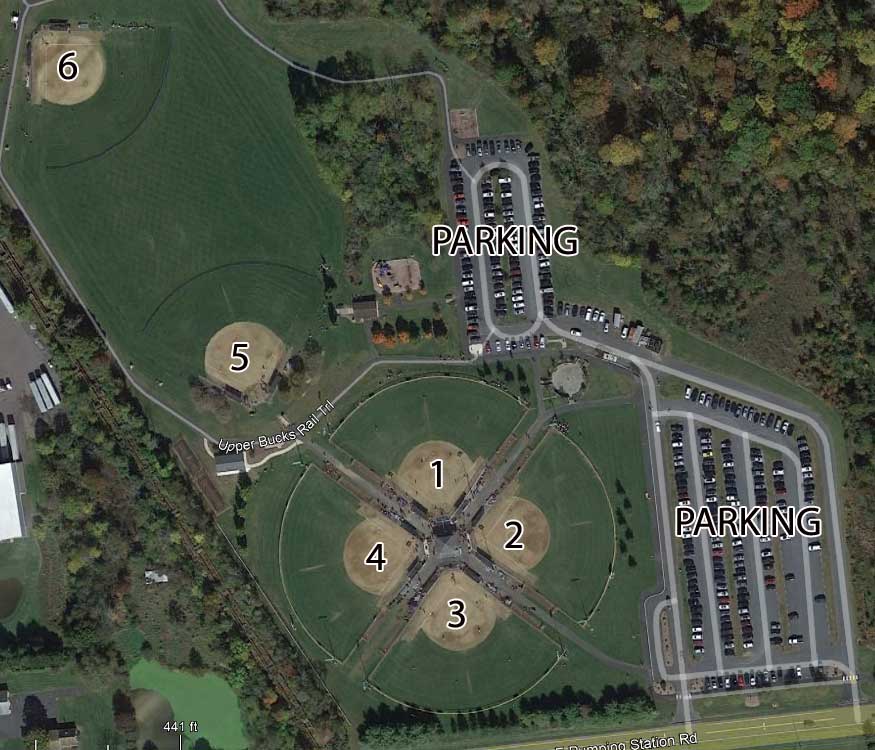 Pennsbury Middle School Fields
866 Big Oak Road, Yardley, PA 19067
Fields 6, 7 and 8 - Boehm-6, Pennwood-7 and Wm. Penn-8
Porta-Potties
No bleachers
Ample parking
No concession stand
G.P.S. Coordinates: 40.209226, -74.826930