41st Annual Invitational Tournament and NFCA Camp
Where Softball Scholarships Come True
Pennsbury Tournament
News
Check here for the latest up-to-date notices and information
41st Annual Pennsbury Tournament Update and Application Forms
The date is set for the 41st Annual Pennsbury Tournament, June 17-20, 2021. We have streamlined the event this year, a few different venues. The Pennsbury Power Pool is for 40 teams and is by invitation only, there is no application process for this event. You will need to be invited.
Pennsbury at Sellersville will be for 18 first time teams, if you have applied and never gained access or you are new to the process, we have 18 spots for you at the three field complex in Sellersville.
Pennsbury at the Middle School will be for 18, 16U teams.
Pennsbury at Heuser Park will be for 12, 14U teams.
Pennsbury at Ewing will be for 24 teams only
The NFCA will hold its camps on Tuesday, June 15th and Wednesday, June 16th, these will be held at the Helen Randle Complex, like last year, in Newtown. All venues will start on Thursday. Please be sure to follow the instructions to apply for the event you are trying to gain access to. Once the committee selects the participants you will receive an email with an acceptance form, you will sign the acceptance form, email it back and you will be added to the event. This is a stay to play event and you will have access to the hotel blocks on the website. This year, we too will be a pay at the plate event, trying to be consistent with others. We look forward to the 41st Annual Pennsbury Tournament and seeing our friends again.
Happy Holidays,
Les and Joe
41st Annual Pennsbury Tournament
Although 2020 has been a very tumultuous year for everyone, we can all look ahead to an optimistically happier 2021.   With that being said, we are planning and very much looking forward to the 41st Annual Pennsbury Tournament.  The tournament dates are as follows: Thursday, June 17th through Sunday, June 20th, 2021.  We believe the dates for the NFCA Academic Camp will be Tuesday, June, 15th and the Classic Camp on Wednesday, June 16th, 2021.  When NFCA schedules are available, we will confirm the 2021 camp dates. Please note that applications to the tournament will be available in mid December 2020.
A final word for the 2020 Pennsbury Tournament (August 10, 2020)
Joe and I want to thank you for your participation in the 40th Annual Pennsbury Tournament. We had a year like we have never experienced and one that we hope never to again.
We thank you for following directions, social distancing, wearing a mask, cooperating with numerous weather issues and schedule changes. We did everything we normally do to put this event on and despite all of the setbacks we accomplished it for as many teams as the Governors permitted us to allow.
We thank Joe Garvey from Newtown, Dave Lotti from Pennsbury North, Paul Koehler from Sellersville, Mark Avelino from Scranton and Tom Di Bernardo from Shamong for all they did to help produce the event.   Your crews were awesome. Our webmaster, John Evanich, who dealt with all the last minute changes and the website crashing due to volume.
We will reset the clock once 2021 hits and schedule the event back to Father's Day Weekend we hope. No Covid, No Hurricanes 2 days before, just a light rain shower, afterall, it's a Pennsbury tradition.
With Appreciation, Les and Joe
Congratulations Les Venella
The NFCA (National Fastpitch Coaches Association) recently awarded the Pennsbury Inviational Tournament and Pennsbury Gems for providing a 40-year commitment to women-student athletes.  Accepting the award Les Venella and Joe Parell, both Les and Joe have been managing the Pennsbury Invitational Tournament since 2001.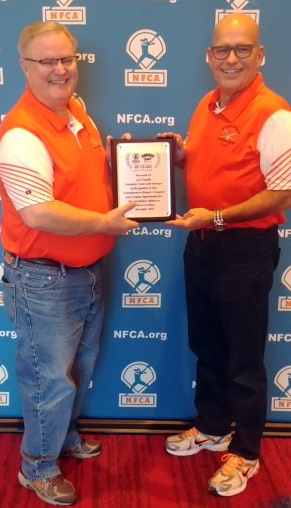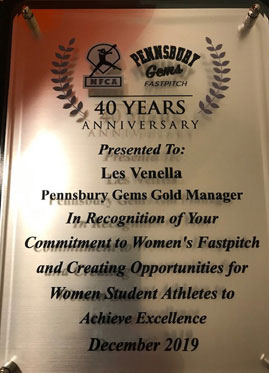 2020 (Revised) Tournament Information
This is the 40th year (Ruby Anniversary) for the Pennsbury Invitational Tournament. The tournament dates are August 6 thru August 8, 2020. The NFCA will host both an Academic Camp on August 4, 2020 and Pennsbury Classic Camp on August 5, 2020. The tournament is 18-Under by invitation only, no college players are permitted. Each team will play five games, weather permitting, and single elimination will be held at the Pennsbury Fred Allan Softball Complex. Read more
NFCA Coach and Player Information
Let's get back to the game!
We're excited to bring the NFCA Northeast Academic and Pennsbury Classic Softball Camps to your area on August 4-5, 2020 Preceding the Pennsbury Invitational and featuring instruction from collegiate coaches,
LOTS of defensive and offensive reps
Position-specific defensive instruction
Offensive instruction
Opportunity to be seen by and receive feedback from college coaches
Opportunity to have your profile information in the hands of collegiate coaches
Digital copy of NFCA's Top Recruit magazine
The difference between the Northeast Academic and Pennsbury Classic camps are the academic standards student-athletes must meet to be accepted into the camp. To determine if your athlete meets the academic requirements please visit NFCAevents.org the format is the same for both camps. Camp sessions are limited in number of participants. All camper graduation dates must fall within years. All instruction will utilize the entire field.
If you are planning to attend the NFCA Camp and or the Pennsbury tournament, please visit the Coaches Corner for additional information including NFCA links and registration for both the camp and tournament.
Prior to the Pennsbury Tournament, NFCA will be hosting both the Northeast Academic Camp and Pennsbury Classic Camp. Both these camps offer aspiring collegiate athletes showing their skills to a large number of college coaches. For additional information including NFCA registration, college recruitment information please visit NFCA Player Recruitment.
Tribute to Pennsbury Invitational Tournament
"We have attended the Pennsbury Tournament for over thirty years, I believe we are one of few teams that attended the tournament since its inception. In the early years of the tournament, twenty teams attended the tournament which lasted two days. Art Coleman was a wonderful person with great vision for East Coast girls fastpitch softball, we played the Pennsbury tournament, many long Sundays with excellent competition that helped many players get recruited."
The Gems continue to be the elite softball team for Pennsbury Tournament Softball. Art Coleman originated the team in 1981 naming the 18-U team Pennsbury Panthers and gave the names Gems to the 15-U team. When the 15-U players moved up to the 18-U team, the girls wanted to carry on the Gems name thus dropping the Panthers and favoring Gems, it has been Gems since.