40th Annual Invitational Tournament and NFCA Camp
Where Softball Scholarships Come True
Pennsbury Tournament
News
Check here for the latest up-to-date notices and information
Covid 19 Virus Update (as of April 4, 2020)
Joe and I hope you are well and staying safe in these very difficult times. The fields that we hold the tournament events at are under stay at home directives until April 30th. With that in mind, we feel we need to wait until then to do anything with the tournament scheduling. As a precaution, we have been in contact with the NFCA and several of our college coach friends that have indicated that the current recruiting period for the summer ends on August 11, 2020. We have reached out to all of the municipalities that hold our event and have secured fields for the week of August 5, 6, 7 and 8 in the event we need to move the tournament. This allows us to still hold the recruiting tournament and also allows us not to move it to the date already in use by many of our friends that hold tournaments. We ask that you pencil in those dates and stand by, as we are, in hopes that this virus can be controlled and a treatment for it is discovered.
We are working on the college coach designed player profile and we are doing it in partnership with Tourney Machine, this tournament will allow us to be completely digital with our schedules, bracketing and player profiles. We will release the form to you soon. For 40-years Pennsbury has had the privilege of hosting teams from all over the Untied States with the sole purpose as being the tournament "where college scholarships happen". We stand committed to that mission as we seek to provide you with the event in these unprecedented times. Be well, stay healthy and we look forward to seeing you at the 40th Annual Pennsbury Tournament.
Les and Joe.
Pennsbury Tournament is well aware of the issues we are all faced with regarding the Covid 19 virus. It is to early for us to make a decision on what we are doing with respect to the tournament. As we all know, they have issued concerns in our area that last until the end of April. Once we see what they are suggesting after that date we can make a more informed decision on the tournament. Joe and I wish all of you health during these trying times.
Welcome to the redesigned Pennsbury Invitational Website
We finally made the decision to upgrade our "old school" website.  We are continuing to populate the website information until the site is completed.  Until then please check back with us as we continue to grow.  The new website will enable users to correctly view the site on all devices including iPhone and Android mobile phones, iPads and both desktop and laptop computers.  We tried to make the website more user friendly while incorporating the latest features including on-line forms and downloadable coaches information.  Please email the webmaster for corrections you may find and or ideas that would improve the website.  We hope you find the website easier to use and more informative to college coaches, players, attending team coaches and all who plan to attend the tournament.
Congratulations Les Venella
The NFCA (National Fastpitch Coaches Association) recently awarded the Pennsbury Inviational Tournament and Pennsbury Gems for providing a 40-year commitment to women-student athletes.  Accepting the award Les Venella and Joe Parell, both Les and Joe have been managing the Pennsbury Invitational Tournament since 2001.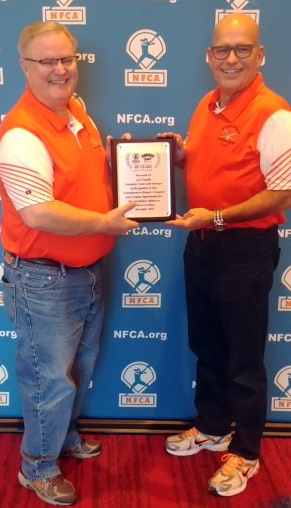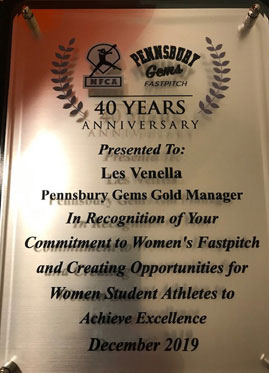 Tournament Registration and Acceptence
If your team has completed and submitted an entry form by December 1, 2019 to compete in the 2020 Pennsbury Tournament, you will receive confirmation by the Pennsbury Staff no later that December 15, 2019. In the event your team has not been selected, your check sent to Pennsbury will be destroyed. Teams will be playing 5 games, weather permitting. You will play Friday, Saturday and Sunday. Friday play starts at 7:30 AM. Games will be played at Pennsbury, Newtown and Ewing Complexes. This applies only to 18-Under teams.
If your team has completed and submitted an entry form by December 1, 2019 to compete in the 2020 Pennsbury Tournament you will receive confirmation by the Pennsbury Staff no later that December 15, 2019.  
In the event your team has not been selected, the check sent to Pennsbury will be destroyed.  
Pool Play begins on Friday, June 19th, you must be able to play on Friday for acceptance. Single Elimination will be determined by pool play and begins Saturday afternoon. 5 games, weather permitting.  We are pleased to be partnered with the Shamong Complex which has eight (8) fields at one location, plenty of parking and a wonderful opportunity for the 16-Under bracket of Pennsbury to play all in one area.  We will be holding a camp on Friday starting at 4:30 PM, this will not interfere with games since they will not be scheduled during the camp. There is a separate registration for the camp.  Shamong Complex for 16-Under teams only.
2020 Tournament Information
This is the 40th year (Ruby Anniversary) for the Pennsbury Invitational Tournament.  The tournament dates are June 19, 20 and 21, 2020.  The NFCA will host both an Academic Camp on June 17, 2020 and Pennsbury Classic Camp on June 18, 2020.  The tournament is 18-Under by invitation only, no college players are permitted.  Each team will play five games, weather permitting, and single elimination will be held at the Pennsbury Fred Allan Softball Complex.  Read more
NFCA Coach and Player Information
If you are planning to attend the NFCA Camp and or the Pennsbury tournament, please visit the Coaches Corner for additional information including NFCA links and registration for both the camp and tournament.
Prior to the Pennsbury Tournament, NFCA will be hosting both the Northeast Academic Camp and Pennsbury Classic Camp. Both these camps offer aspiring collegiate athletes showing their skills to a large number of college coaches. For additional information including NFCA registration, college recruitment information please visit NFCA Player Recruitment.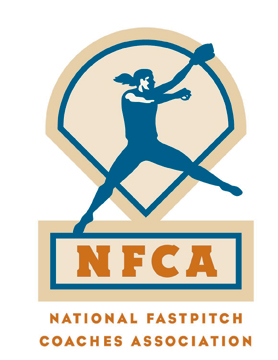 Tribute to Pennsbury Invitational Tournament
"We have attended the Pennsbury Tournament for over thirty years, I believe we are one of few teams that attended the tournament since its inception. In the early years of the tournament, twenty teams attended the tournament which lasted two days. Art Coleman was a wonderful person with great vision for East Coast girls fastpitch softball, we played the Pennsbury tournament, many long Sundays with excellent competition that helped many players get recruited."
The Gems continue to be the elite softball team for Pennsbury Tournament Softball. Art Coleman originated the team in 1981 naming the 18-U team Pennsbury Panthers and gave the names Gems to the 15-U team. When the 15-U players moved up to the 18-U team, the girls wanted to carry on the Gems name thus dropping the Panthers and favoring Gems, it has been Gems since.